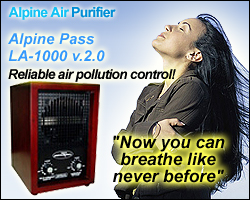 Improve The Quality Of Life For Your Entire Family
We humans are always searching and developing new technologies for ways to improve the quality of life.
If you or a family member are,
feeling tired all the time
can't focus
can't sleep
catching colds
having migraines
asthma
and constantly fighting allergies
          …then perhaps you should think about the trapped contaminated indoor air that you breathe.
Is it really as clean and purified as you think?
Fresh clean oxygen is what our bodies desire. When we breathe bad air we create lots of respiratory problems and starve our body from the full oxygen it needs to ward off all kinds of ailments. What's Alpine's secret? 
Natural Home Remedies For A Better Quality Of Life
As a professional carpet and upholstery cleaner servicing Huntsville Alabama for over 25 years, I've had to deal with countless odor problems inside homes, apartments, offices, autos and more. Most of the time it was not only in the carpet and upholstery but on the walls, ceilings and air ducts etc. Through the years I have found one brilliant air purifier system that Never let me or my customers down and this site is dedicated to it.
This air cleaner has saved lots of time, money and my customer's nostrils by not having to apply harsh chemicals to solve their indoor odor problems.
The "Living Air" purifier has helped thousands improve their life. You'll have; More energy, better nights sleep, refreshing indoor mountain fresh air and less allergies. For odor, floating dust and musty smells you will notice results in as little as 15 minutes just like their sales letter says.
Those are just a few of the many miracles that you will learn to love about operating one in your home. I invite you to learn more about this Amazing air cleaner technology Here. And sign up for a chance to Win an Alpine 'Living Air' Purifier. Alpine will also send you a monthly Newsletter with more info and news about our industry.
---
Is it expensive to use an air purifier?
While this will also greatly depend on which whole house air purifier model you purchase, air purifiers can consume anywhere from 18 to 175 watts of electricity or more. Unlike the Alpine, other models that actually are installed to your intake and home air system can be huge and can consume more watts. In comparison, a standard lamp bulb may use about 20 watts, while a computer uses between 100 and 300 watts of electricity. An air purifier isn't likely to increase your energy bill by much, but if you are concerned, just ask how many watts the model will consume before you decide on a purchase.
Alpine's air cleaner makes whole house air purifiers simple. It's powerful, small and sits on a bookshelf. Why spend thousands on installing a huge device to your air conditioning system. Save money and huge maintenance costs by trusting Alpine.
"When the US Pentagon was attacked by terrorists they trusted Alpine to clean and purify their indoor air." 
---
Alpine Air Cleaner Testimonial
We may not be able to claim our air purifiers as a medical device but here is one testimonial that touched my heart after this couple purchased an Alpine air cleaner.
My husband has severe allergies, I smoke, and we have dogs in our home. My husband was getting three serum shots per week for his allergies, but even so, symptoms remained, so I told him about the Fresh Air purifier when I heard about it. He is extremely skeptical about products that sound "too good to be true", but said he'll give it a try for 30 days.
I bought it and as each day went by, he was more and more impressed. He was feeling much better and our home smelled so clean that visitors wanted to know how we had done that. We bought the unit 2 months ago, and it's one of the smartest purchases we ever made. We love it! Walking into our home to that wonderful clean smell is great, but best of all, my husband has quit taking allergy shots and feels so much better. He says he can't live without his Living Lightning Air purifier.
Mr. and Mrs. Lattray
Mt. Vernon, IL
---
"Here's looking forward to even more new inventions, technologies and ideas on ways to improve the quality of life."
Don't leave before you sign up for your chance at a free Alpine Purifier! Click Here!
---
If you have ever had serious indoor air pollution problems drop me a comment. Let me know how you solved it. How many times did you have to try a new way? I'd love to hear from you …Leave your comment below.