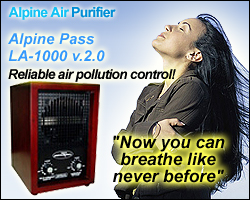 Improve The Quality Of Life For Your Entire Family
We humans are always searching and developing new technologies for ways to improve the quality of life.
If you or a family member are,
feeling tired all the time
can't focus
can't sleep
having migraines
asthma
constantly fighting allergies
living with dusty and smelly indoor air
          …then perhaps you should think about the trapped contaminated indoor air that you breathe.
Is it really as clean and purified closed up from the outside as you think?
Fresh clean oxygen is what our bodies desire. When we breathe bad air we create lots of respiratory problems and starve our body of the full oxygen it needs to ward off all kinds of ailments. What's Alpine's secret technology? Continue reading "Ways To Improve The Quality Of Life" →